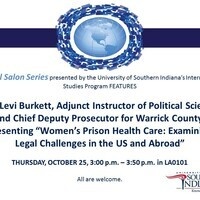 Mr. Levi Burkett, Warrick County Chief Prosecutor and Adjunct Instructor of Political Science, will be presenting "Women's Prison Health Care: Examining...

Bob Parr (Mr. Incredible) is left to care for the kids while Helen (Elastigirl) is out saving the world. Rated PG

America's third political party, the New Founding Fathers of America, comes to power and conducts an experiment: no laws for 12 hours on Staten Island. No...

Join us on November 17, 2018 for a day of dancing, games, food, music, listening to Riley Families, and so much more! We will be standing and dancing in...

Priority Registration allows eligible students to select courses prior to the beginning of the term. Priority registration occurs during the first two full...

As Scott Lang balances being both a Super Hero and a father, Hope van Dyne and Dr. Hank Pym present an urgent new mission that finds the Ant-Man fighting...

Do you enjoy doing your own crafts? Say no more! Come hang out with the Activities Programming Board and make picture frame white boards, no sew pillows, pen...

What do get when you jumble Halloween, fun fair games, and candy together? A Haunted Carnival! Come to the RFWC for Halloween themed carnival games, an XL...

USI's annual Open Enrollment will kick-off with the Benefits Bash. This event is open to all full-time, benefit eligible employees. We are hosting 12...