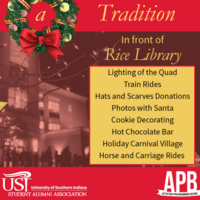 Join the Student Alumni Association in welcoming the holiday season with the 28th annual Lighting a Tradition! Festive holiday lights strung on the trees...

Join us on November 17, 2018 for a day of dancing, games, food, music, listening to Riley Families, and so much more! We will be standing and dancing in...

This contemporary romantic comedy, based on a global bestseller, follows native New Yorker Rachel Chu to Singapore to meet her boyfriend's family. Rated PG-13

Priority Registration allows eligible students to select courses prior to the beginning of the term. Priority registration occurs during the first two full...

Join the College of Liberal Arts and Eric Braysmith, lecturer in Liberal Arts, for the Friday Night in the Forum film series free screening of Loving Vincent...

Final exams for the semester. For the daily exam schedule, visit the Registrar Website.
Develop a better understanding of this topic with special guest presenter, Dr. Nicholas LaRowe. Dr. LaRowe is serving as the Interim Dean of Students. He is...

Interested in a career in Law Enforcement or Investigation? Join us for our annual law enforcement and investigative careers panel presentation. Local...

Stephanie is a single mother with a parenting vlog who befriends Emily, a secretive upper-class woman who has a child at the same elementary school. When...
Last day of the fall semester.